Description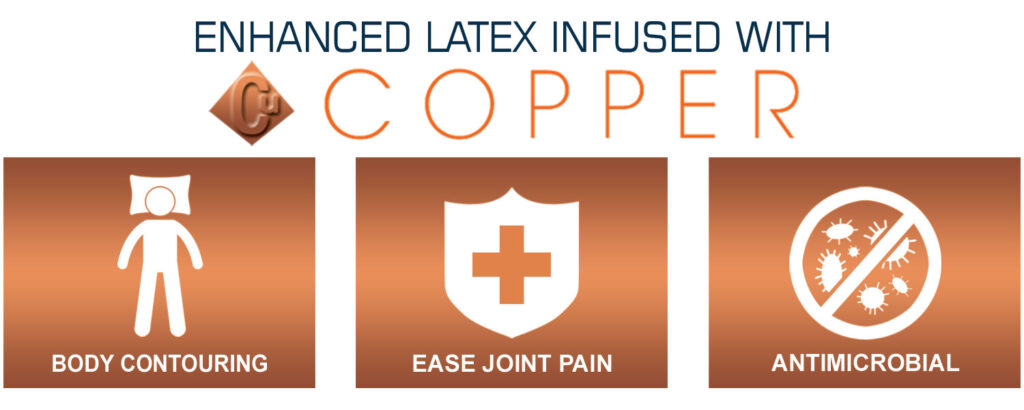 Copper Infusion is beneficial for your wellness and health. Reduces joint inflammation, eases joint pain and stiffness.

Beautiful, Stretch Knit Fabric Cover Featuring Sleep Cool™ Technology: This top cover material is incredibly soft, breathable and minimizes pressure. Featuring Cool Touch™ technology for a cooler sleeping environment.

Enhanced Latex Infused with Copper Comfort Layer:
Latex gently contours to the body for reduced pressure and proper full body comfort and support. Self ventilating, breathable Pin Core design for ultimate air flow and temperature neutral sleep. Inherently anti-microbial and dust mite resistant. Absorbs energy and motion to reduce partner disturbance.
Copper Infusion is beneficial for your wellness and health. It helps reduce joint inflammation, helps ease joint pain and stiffness, helps improve blood circulation and stimulates the production of capillaries, collagen and other key proteins producing healthier, softer skin. Copper features anti-microbial properties to protect against fungi & bacteria. Our Latex Enhanced Foam Infused with Copper feels like Latex, but has better tensile and tear strength and a better support factor.
Progressive Support Contouring Comfort Layer: Full body, superior pressure reduced support and alignment. Contours to the body for even weight distribution to eliminate pressure points.
Substrate Base Support Layer: High density, resilient cushioning for full body comfort and support.
Grey/Black Slate Side Panels: Beautifully quilted and finely tailored with contrasting basalt grey threading – offers classic style and traditional looks with a very modern feel.
6 Huge Benefits Of Amazing Copper!