WHOLESALE
|
RETAIL
|
IMPORT & EXPORT
|
DESIGN
|
MANUFACTURING
We offer a huge selection of innovative, stylish & affordable products for the total sleep environment!

InnoMax Has Been Helping America Sleep Better Since 1975!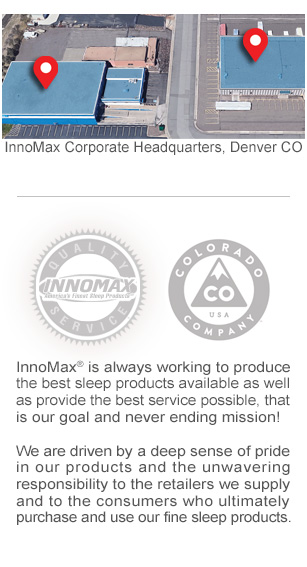 Enjoy The Power Of One Source
With InnoMax
InnoMax® Corporation, headquartered in Denver, Colorado – is one of the largest Specialty Sleep Manufacturers established during the specialty sleep boom of the 1970's. Originally founded in 1975 as Rocky Mountain Inflate-A-Bed, InnoMax® is a primary supplier to the $1 Billion plus Air Sleep industry. While sourcing an expansive variety of innovative specialty sleep products worldwide, the bulk of InnoMax's® finished goods are produced in North America.
In keeping with their philosophy of vertical integration, InnoMax® operates production and distribution facilities on the US East and West Coasts as well as local retail facilities near their Headquarters in Denver, CO – that function as test marketing venues and dealer training centers.
InnoMax® produces components such as air sleep pumps and chambers, fluid suspension support modules, temperature control systems and a variety of other specialty sleep components for Brand Name mattress manufacturers in both domestic and international markets. InnoMax® also produces specialty sleep products such as Luxury Support®, Comfort Craft®, Genesis®, Convert-A-Bed® and The Linen Resource™ full line of pillows and top of bed accessories – available in attractive 4-color point of sale packaging.
From their full distribution facilities in Colorado, and limited line distribution facilities in California, Wisconsin & More – InnoMax® provides their dealers with a "One-Stop" source for all their specialty sleep needs.
In addition to Air Sleep, Fluid Suspension, Coil, Memory-Cell® and Latex Support mattresses, InnoMax® supplies Sheets, Bedding, Bedroom Furnishings and a large selection of unique specialty sleep products to some of the worlds largest retailers; the InnoMax® dealer network has been on the leading edge by introducing the latest in innovative specialty sleep products to the U.S. market since 1975.
In their never ending quest to provide sleepers with the best rest of their life, InnoMax® continues to usher in specialty sleep products that offer their dealers the competitive advantage with unique selling propositions and innovative sleep solutions for consumers.